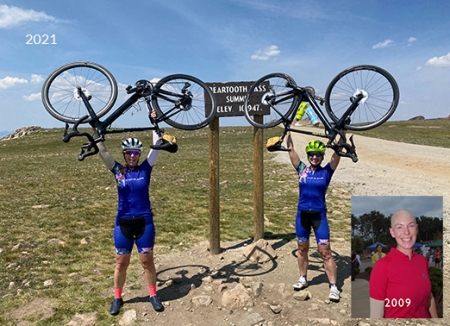 sponsor me
Hello from the top of Beartooth Pass in Montana- one of the highlights for me in 2021. What made this even better was the chance to share it with 16 crazy friends, including my husband and Diane (pictured). My climbing partner for the day, Diane and I had trained for this all year, and we soaked it in while doing our best to turn the pedal and breath in the high altitide. Big achievements like this are sweeter when you accomplish them together!
I learned about le Tour de Femme in a cancer support group in 2009 and was determined to ride that year in the middle of chemotherapy. The community of people that organize, support and participate is so special that to experience the event is a gift to all who come. It is the cherry on the sundae. The real gift is the difference we make with the funding we give to The Kay Yow Foundation and the Angel Fund at Rex each year.
Please join me in celebrating another year of surviving and thriving!