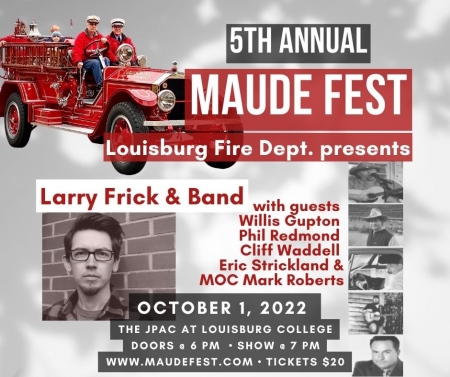 The 5th Annual Maude Fest
The 5th Annual Maude Fest will be held on October 1, 2022 at the Jones Performing Art Center (JPAC) on the Louisburg College campus. This year's lineup will feature Larry Frick with his band and special guests Willis Gupton, Phil Redmond, Cliff Waddell and Eric Strickland. TV personality Mark Roberts will serve as Master of Ceremony. The format of the concert will be reminiscent of a jam session at an old-fashioned country "honky-tonk." This will be an action-packed show with outstanding "real country music."
This Year Honoring Willis Gupton
As many of you are now aware, Willis is currently experiencing a very serious medical situation in his life. He, and his family, need our prayers and support as they fight this battle. In acknowledgement of his dedication and support of LFD, we wish to return the favors and support him in his time of need, as he has so generously supported us in our endeavors. Therefore, Louisburg Fire Department will share the net proceeds of Maude Fest 2022 with Willis Gupton. We hope that this token of our appreciation for what Willis has done for LFD helps with his medical and related expenses. Our thoughts and prayers are with Willis and his family.
History
Maude Fest is an event for the purpose of raising funds to restore "Maude" which is a 1921 American LaFrance type 75 fire engine! "Maude" was the Town of Louisburg's very first fire engine. The Louisburg Fire Department through fundraisers, generous donations and a collector who sold us Maude back at a very reasonable price was able to bring Maude home to Louisburg. The collector always said if he ever sold Maude he would give Louisburg the first opportunity to bring her home.
Purpose
The Louisburg Fire Department would like to raise funds to restore Maude to her original condition as she was delivered to the Town of Louisburg in 1921. Although Maude was able to make a few parade appearances, she needed a lot of work especially cosmetically. Our estimates were anywhere from $100,000 and up. We had Maude completed in time to celebrate her 100th birthday December 2021. Although Maude is fully restored we still have financial obligations to pay for the restoration.
This year all proceeds from Maude Fest will be shared between funding Maude's restoration and supporting Willis Gupton with his health issues. Willis has always been one of Louisburg Fire Department and Maude Fest's greatest supporters.
Now & The Future
Maude lives in the new Louisburg Fire Department Museum, along with other historical artifact of the fire department. Here she will be available for visitors to come, see and photograph her. Her main purpose is for fire safety education. Fire safety education is of utmost importance in the saving of lives and property. Maude should be available for parades and other public displays for years to come. She will be available for school kids to come and visit during Fire Prevention Week. Now that the Louisburg Fire Department Museum is complete Maude is again the "Grand Old Lady" of the Louisburg Fire Department.
PLEASE COME OUT AND SUPPORT LOUISBURG FIRE DEPARTMENT AND WILLIS GUPTON. YOUR ATTENDANCE, SPONSORHIPS, AND DONATIONS AS WELL AS YOUR THOUGHTS AND PRAYERS FOR WILLIS ARE VERY GREATLY APPRECIATED!!!!