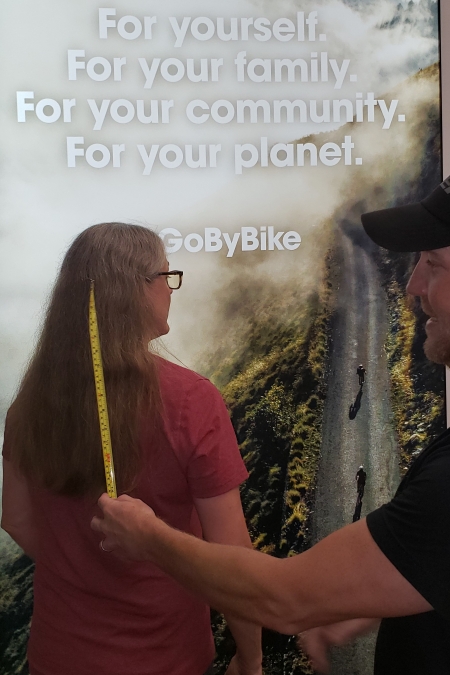 20/Oct/2020 Update: Total funds are $3,200. Just $1800 to go for bald. Please help!
_____________________________________________________________________
Ready to "Go Bob? or Go Bald?"
Well, if you aren't, Natalie is!
Natalie has been growing her hair long for a few YEARS and is ready to cut it all off for the benefit of others. Based on your donations, Natalie will either cut her hair to a short bob (Go Bob!) or cut it all of (Go Bald!). Yes, she is willing to Go Bald! to help out two awesome causes.
The first cause is le Tour de Femme, an organization which in turn benefits two local charities that help cancer patients, the Kay Yow Cancer Fund and the UNC Rex Heathcare Angel Fund. To donate to this cause use the donation link on this page.
The other cause is TORC and Umstead Coalition's efforts to preserve the Odd Fellows tract (public land adjacent to Umstead State Park) and to create RDU Forest, an urban forested recreation center on Odd Fellows and extending into Umstead State Park. To donate to this cause use this link https://torc-nc.org/product/save-rduforest-donation/
What do YOU want her to do? With your support…
• $2,000 raised and Natalie will cut her hair by at least 14" inches and Go Bob!
• $5,000 raised and Natalie will cut all of her hair and Go Bald! Yup, she's willing to cut off all of her hair in honor and support of all those facing or surviving cancer.
EVENT DETAILS
Dina Pezzimenti of Halo Salon in Raleigh will be doing the cut…and shave.
Hair will be donated to an amazing organization, Hair We Share. Their mission is to "help maintain dignity, confidence and self-esteem to those affected by medical hair loss."
The event will be held virtually, for sure. If social distancing restrictions have subsided, we'll throw a huge party!
Event date: Wednesday, October 21, 2020
Event time: 7:00pm til ... ???
Location: Will post a video or live stream given the social distancing issues.
Please join us in cheering Natalie on as she braves the scissors (and shavers) and enjoy the process of Going Bob or Going Bald, all while helping benefit these amazing organizations!
Do you have a great fundraising idea for le Tour de Femme? Please contact us at info@letourdefemme.org
Thank you for your support!
Natalie Lew is a cycling enthusiast, mountain biker, coach, and an active community partner and advocate for our parks and trails and helping to get more people on bikes – kids, women, minorities…everybody. She is an avid supporter and participant of le Tour de Femme and the RDU Forest effort.