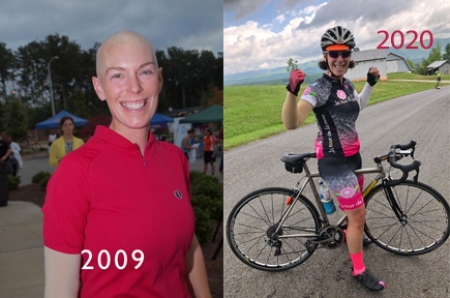 sponsor me
Why fundraise for an event that is virtual?
In May, I had a check up scheduled with my oncologist. The appointment was virtual but I still went to the office for labwork. I arrived, masked up, following all the protocals, and watched the cancer warriors, coming in for labs and treatment. My heart was overwelmed with compassion for their situation and it struck me- The pandemic may have disrupted our lives, but it has not prevented many ascpects of life from moving forward. Cancer did not stop due to the pandemic.
I always look forward to a HUGE celebration on ride day, seeing everyone in person, with lots of hugging, but that will have to wait. We can love our community by sending money to those who need it more than ever- to the organizations who can bring that help. The Angel Fund at Rex and The Kay Yow Foundation. In honor of the 15th year, Todd and I have donated $1500, and we invite you to donate as you can in honor of cancer warriers.
I also invite you to join me in a cycling challenge. Can you ride 15 miles, 15 times before October 10th? Let me know, so that I can cheer you on!